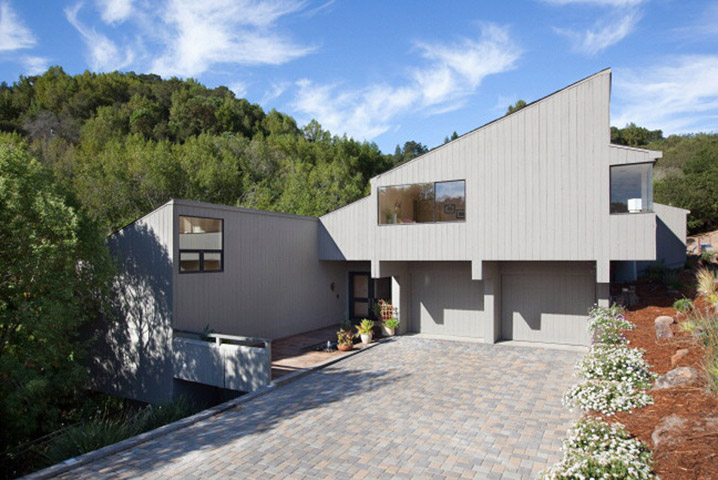 109 Bear Ridge Trail | Orinda | 94563
Architecture: David Boone
Offered By: Pacific Union International Real Estate
Built 1988;  3 bedroom,  2.5 bath, 3863 square feet
The house has been designed by David Boone, an architect who has won various prizes for the design of contemporary homes that integrate the residence and the environment.  This home is conceived as a 1988 California interpretation of Frank Lloyd Wright's "Falling Water."
The home is designed to be "of the hill, not on the hill." It steps down the hill, taking advantage of the extraordinary scenic beauty of the surrounding hills and trees, and of the creek it overlooks.  Through extensive use of mitred windows, views are completely unobstructed.  The house is situated on a 1.25 acre site yielding almost total privacy from other residences.  It is located in the Bear Ridge subdivision of Orinda, CA which affords some of the largest lots and greatest amount of privacy in Orinda.
The most unusual feature of the house is the water system.  The house is built around the L-shaped swimming pool, which is integrated with surrounding water through an entry pond, which spills into the pool. There is a waterslide that starts at the upper deck and also spills into the pool.  More than 1700 square feet of decking provide ample opportunity to enjoy this recreation center.  In addition, a site has been designated for future installation of a sport court.
You will love the upgraded kitchen, if you love to cook and feel close to the outdoors. There is a large center island for storage, washed-Oak cabinetry, and closet pantry along the wall.  New Cezar Stone countertops and stainless steel appliances gives the kitchen a modern feel.  The floor plan lends itself to both indoor and outdoor cooking.  The deck has a built in bbq and dining area. Entertaining is a breeze.
Built in cabinetry can house a flat screen TV, (TV Not Included in the sale) and fully installed surround sound system creates a state of the art home theater.  The dramatic entry with tremendous vertical space accentuates the feeling of openness.  The living and family area can accommodate many guests, and yet be private enough for a family get together.
The master bedroom suite overlooks lush greenery and has a Birdseye view of the pool.  This lovely space has a fireplace, cabinets for a television and small refrigerator.  There is also a large walk-in closet and a separate his-hers vanity that is attached to a very large spa bathroom with a Jacuzzi-type bath.  The bedroom connects to a private office/study with outdoor access to the upstairs deck and outside hot tub.
Stunning Architecture designed by David Boone, meant for entertaining. The fountain greets you at the entrance and leads you to the inviting pool with a water slide in the backyard.  Live in a private setting with nature at your door. Luxury Master Suite and many upgrades abound. This is truly a unique custom home, four bedrooms, three bathrooms, Gourmet European Kitchen, breakfast nook, dining room, and two indoor living areas. The home has 3863 square feet of living space and 1700 square feet of outdoor deck that are specifically designed to blend with the surrounding landscape.
Photography by Patti Chandler.