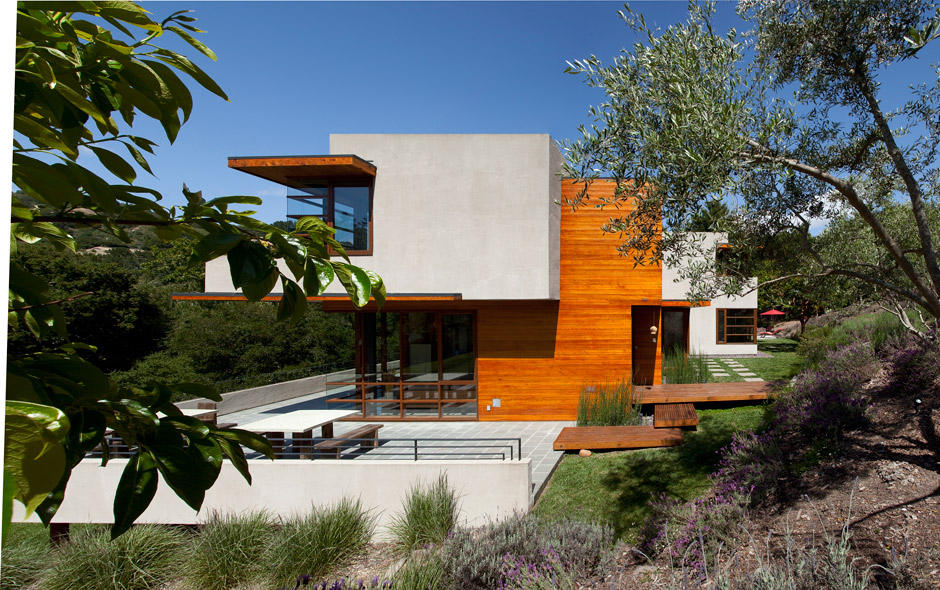 1234 Cambridge Dr. | Lafayette | 94549
Architecture: Swatt Miers
Built 1995;  4 bedroom,  3 bath, 3,800 square feet
The Swatt Residence is the architect's own home. The 3800 square foot residence is situated on a 1-1/2 acre north-facing site, overlooking a creek, mature oak trees, and the hills of a regional park beyond. Goals of the project include a light and open interior suited to informal family life and entertaining; as well as a strong connection between the interior spaces and the natural environment.
The down-sloping lot, with access at the top and flat land at the bottom, suggested that the site be broken into 3 functional areas: carport/studio, main house, and pool. By detaching the house from the carport and locating it roughly halfway down the slope, the lower level gains direct access to the pool while the upper levels enjoy full exposure to views and daylight from all sides.
The interior of the home is organized around a glazed south-facing two-story spine, which serves to define circulation, admit maximum daylight, and provide access to the entry courtyard. Spaces at the main "public" level are differentiated not through the use of walls and doors, but by materials, level changes, and built-in casework. To extend this openness to the exterior, five bi-folding glass doors open the spine and living areas to the entry courtyard, virtually eliminating the separation between indoor and outdoor spaces.
The Swatt Residence has received several regional and national awards, and has been featured in many publications throughout the United States and internationally, including Australia, China, Japan, Thailand, and Hungary. The house was also on the Birth of Cool tour in 2008, sponsored by the Oakland Museum.
Photography by Russell Abraham